NI gorse fires damage environment 'for up to 10 years'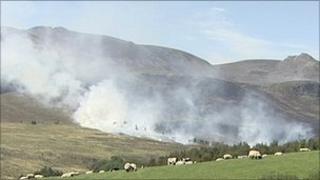 The National Trust has said it will take years for the environment to recover from the damage caused by the recent gorse fires in NI.
Fire crews attended another 31 blazes on Tuesday, the largest of which was in County Antrim.
Head warden of the National Trust on the north coast Frank Devlin said animal life will be put under pressure.
Bird life will suffer from the loss of nesting sites, as well as from the wiping out of food sources.
"The problem is the extent of these heather moorland fires we're having. We have lost hundreds of acres of heather moorland, which is a very important habitat on the north coast," he said.
"I only walked in a few metres and one of our most important species here, the common lizard, I found a dead one and countless dead frogs lying and those are all very important parts of the food chain.
"And although this heather will recover through time, it's home to a wide variety of insect life, bird life and mammals and the immediate shock on that population will be devastating."
Mr Devlin said it would take between five and ten years before there is enough plant cover in fire-damaged areas to sustain the insect life which larger animals depend on.
"All the insects, the butterflies, the spiders, the flies will all have been wiped out. That's the low end of the food chain, there are lots of animals that depend on those small insects and things to live on," he said.
Predators near the top of the food chain like peregrines, hen harriers and owls face starvation as their prey has been all but wiped out.
"The entire landscape has been changed and it just won't sustain that sort of life anymore," Mr Devlin added.