Newspaper review: NI and Republic of Ireland stories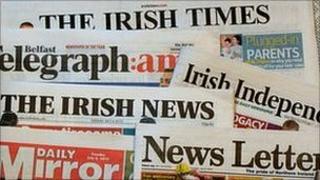 Journalist Keith Baker takes a look at what is making the headlines in Thursday's newspapers.
Election day of course.
The News Letter has a headline which is a variation on an old theme.
It urges us to - Vote early and vote three times.
There's concern about what the turnout's likely to be.
On Wednesday we had analysis of how the party leaders fared in their debate on BBC Northern Ireland on Tuesday night.
This morning the papers reflect on how the audience responded. The News Letter works out that on average just one in 20 voters watched.
It sees this as an indication of a lacklustre campaign that has failed to generate any substantial interest.
The Irish News says the viewing figures will do nothing to dispel fears of apathy.
But it says that even if a campaign has been less than brilliant or a message poorly communicated, we should resist the urge to stay at home.
The Belfast Telegraph says honesty and realism have been fleeting visitors to the campaign trail.
It thinks our politicians have done little to win our support but it urges us to give it to them nevertheless.
The Belfast Telegraph front page has a picture of a man who certainly has our support.
This is a man called Rob Milroy. When the picture was taken he'd just spent nine hours trying to put out raging gorse fires armed only with a beater.
The Telegraph says he's just one of the brave firefighters tackling 1,010 blazes in four days and facing burn-out.
The man himself, who works from Ballymena, tells the paper that fire officers are either working nine hour shifts during the day or 15 hour shifts overnight.
The News Letter highlights another problem - fire sightseers.
It says some fire crews have had to stop what they're doing to rescue people who've become trapped while watching the gorse burning.
A fire service official appeals to people to stay away.
In the Irish News - question marks about a big road project.
Back in 2007, the then Dublin government pledged to help with funding for the construction of a dual carriageway from Londonderry to Aughnacloy. The figure involved was £400m.
According to the Irish News, the current Dublin government is still prepared to help but warns that its contribution will have to be slashed.
It says the new Fine Gael transport minister appears to be non-committal.
And a big story in the Belfast Telegraph about standards at some of our schools.
It says Lisnagarvey High School in Lisburn, Dunmurry High School and St Gemma's in Belfast are the latest schools in the Department of Education's formal intervention process after the quality of education was found to be inadequate.
The paper says more than 80% of pupils at Lisnagarvey are failing to hit government targets for reading and writing.
Two big stories for the cross-channel papers - the AV referendum and the continuing controversy about the killing of Osama Bin Laden.
The Independent front page has pictures of Messrs Cameron, Clegg and Miliband.
It says this is Super Thursday and the stakes are high.
There's more reporting from the Bin Laden compound. In the Sun there's an interview with the man who built it.
And if you're interested in another house with a bit of history, then try 245 Templeogue Road in Dublin, which is currently for sale.
The Irish Times tells us that during the war it was owned by an Irish-German businessman who tried to hatch wacky plans for an IRA-backed Nazi invasion with the aim of attacking Britain through Northern Ireland.
It didn't work and the people involved ended up in jail.
The house can be yours for a mere 1.25m euros.
The paper says you never quite know what lies behind the facade of outwardly respectable Irish suburbia.