NI teen won't be moved to English psychiatric unit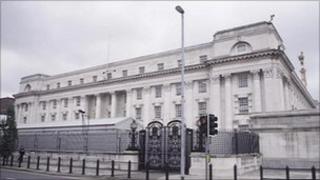 A decision to transfer a teenager with complex psychiatric needs to England to receive specialist treatment has been quashed by the High Court.
Mr Justice Treacy ruled that the relevant health authorities did not take on board concerns raised by the 16-year-old boy's family.
He cannot be named for legal reasons.
The boy was due to be moved to a facility in Northampton because there was no appropriate secure unit in Northern Ireland.
The cost of the initial three-month transfer was estimated at £100,000.
However, the move was put on hold in March after judicial review proceedings were launched.
It was claimed that the plan breached the right to privacy and family life.
Lawyers also argued that the Department of Health failed to exercise its discretion properly and raised a further point about a requirement to seek consent from a patient for mental treatment.
Ruling on the case on Wednesday, the judge noted that the authorities had not seen an expert medical report before ordering the teenager's transfer.
Failure
Mr Justice Treacy said there was no evidence that the trust or department carried out a balancing exercise.
"The court has therefore concluded that the respondent, by failing to consider the objections to transfer and possible significant disadvantage, did not take into account all relevant considerations.
"For those reasons the decision must be quashed."
His ruling means the department must now carry out a new process, with consideration given to all available information.
A solicitor representing the teenager, who is being treated in a medium secure adolescent unit, said he was happy with the outcome.
"We are very pleased that the court has recognised the need to involve the patient and his family in the decision-making process," said Gerry Hyland.
Mr Hyland said the department used a template document to set out the terms upon which the decision to transfer was based.
"They had a 20-page report from an English consultant psychiatrist who came over to assess his needs for further treatment in England," he added.
"The department made the decision without seeing that document and its contents, which were very illuminating as to what this young person needs."