Irish barmen deny manslaughter of Graham Parish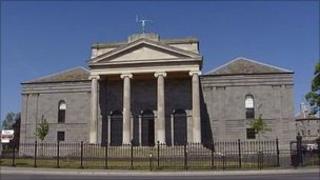 Two barmen from the Irish Republic have pleaded not guilty to the manslaughter of a British man who died from acute alcohol intoxication in 2008.
Graham Parish from Lancashire, was celebrating his 26th birthday and downed 10 shots of spirits as a trick.
Mr Parish slumped off his stool and was carried to a conference room where he was found the next day.
Bar manager Gary Wright and barman Aidan Dalton were working at the bar in Hayes Hotel in Thurles on 1 July 2008.
It is the first case of its kind under the liquor liability laws in Ireland.
Mr Wright and Mr Dalton, both with addresses at Kilfithmone, Borrisoleigh, Co Tipperary, have denied the charges.
Mr Parish, from Calder Terrace in Lomeshaye village near Nelson, was a resident at the hotel when he died of acute alcohol intoxication.
Vodka
Paddy McCarthy, senior counsel for the State at Nenagh Circuit Court, told the court the pair were accused of gross negligence that caused the death of Mr Parish.
"The final drink served by the barman and okayed by the manager was eight to 10 spirits in a pint glass," he said.
The dead man's parents David and Julie and sister Jess bowed their heads as Mr McCarthy said Mr Parish died from acute alcohol poisoning.
The barrister said Mr Parish - who was working in the area with colleagues - had been drinking Guinness for more than three hours before one vodka shot was put in his pint which he drank in one go.
"Two vodka shots were put in another pint he drank," he added.
Mr McCarthy said: "Some competition went on and he (Mr Parish) said he could down 10 spirits in a pint glass before his colleagues could down their pint.
"The barman filled it up, asked the manager and the manager gave the ok for the purpose of serving it.
"He downed the drink in one go."
Mr Parish, a father of two, was employed by Reliant Installations Ltd in Skipton, North Yorkshire.
He had arrived in Thurles on the afternoon of June 30 2008 for a job at Dew Valley Foods Ltd in the area.
The trial is expected to continue into next week.