Newry haulage directors jailed for falsifying records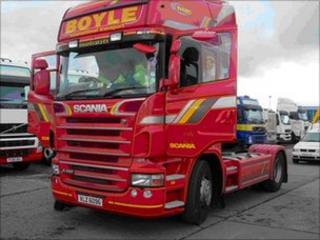 Two directors of a Northern Ireland transport business have been jailed for falsifying company records.
Patrick James Boyle, 65, and his son Mark Anthony Boyle, 36, of Boyle Transport in Newry, pleaded guilty to conspiring with drivers to tamper with tachograph records.
They were sentenced to two years and 18 months respectively on Tuesday.
A court was told some of their staff were driving for up to 12 hours a day longer than they should have been.
Carlisle Crown Court in Cumbria heard how a priest and two politicians, Sinn Fein's Conor Murphy and Danny Kennedy of the UUP, were among those who wrote in support of the Boyles.
Both Boyles initially denied the charges before changing their pleas.
'Guilty'
A complex investigation by Cumbria Police into Boyle Transport began in October 2008 when eight of the company's vehicles were stopped as they made their way to Cumbria from Glasgow.
Five of the vehicles were seized and examined, and were found to have modified wiring systems.
Further investigations saw that each had had their tachographs, instruments which monitor driver activity, interfered with.
It was revealed that each digital tachograph owned by the company had been adjusted and the drivers had, in fact, been driving up to 22 hours per day. The legal maximum is 10 hours.
The court heard how the firm was licensed in Northern Ireland but in effect operations were run from Scotland.
Fifteen HGV drivers from the company also appeared in court. They all pleaded guilty to interfering with their tachographs and were given suspended sentences.
The drivers, many of whom assisted the prosecution, were told they would have been jailed for 12 months had they not co-operated with the police investigation.
The court also heard DNA swabs taken from each employee led to the conviction of 51-year-old Leslie Marshal from Glasgow for a previous offence of rape and kidnap back in 1989.
Manipulated
After providing a sample he was arrested and charged. He is currently serving a six-year sentence.
Speaking after the sentencing, sergeant Graeme Hodgson said the employers had "manipulated" their staff into taking serious risks on the road.
"Our enquiries also revealed that some employees had resigned from the company after being asked to work such long hours," he added.
"One sent an e-mail to Patrick Boyle stated 'I am not prepared to risk my life, other peoples lives or a jail sentence for you to make a profit and still pay poor wages for the amount of hours you expect people to work'."
Patrick and Mark Boyle were also disqualified from acting as company directors.
The firm, which was founded in 1973, is based in Camlough, County Armagh. Its last set of accounts up to July 2010 indicate an annual loss of about £20,000.