IKEA employee jailed for allowing family to steal £10k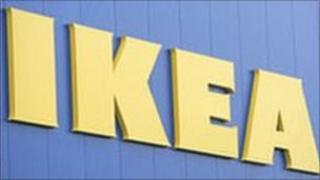 A former IKEA employee has been jailed for nine months for allowing his family to steal £10,000 worth of furniture.
Colin Kenny of Grangewood Crescent, Dundonald, 20, allowed his grandmother, mother and a family friend to take trollies of goods past his till.
His mother, Carol Kenny, 42, and his grandmother Mary Rainey, 65, from Donegall Pass were given eight month sentences, suspended for two years.
Ruth Large, 45, of Andara Mews, Dundonald, was given community service.
Belfast Recorder Judge Tom Burgess told Kenny he had been in control of an operation motivated by monetary gain or greed.
Judge Burgess said the concerted act of dishonesty also represented a serious breach of trust by Kenny and his custodial sentence was necessary to bring home to him and others thinking of acting likewise it would not be tolerated.
Prosecution lawyer Philip Henry told Belfast Crown Court that Kenny was the link to the whole operation.
Mr Henry said when he was working on the tills the trio, either together or individually, were allowed to leave the Belfast store without paying.
Mr Henry said that on occasions they would pay for some of the lower cost items and be issued with a receipt to cover their actions, giving the appearance as if they had paid for all of the goods.
The defence lawyer for Kenny said he was only 18 at the time of the offence and that he had initially only wanted to help his grandmother, following the death of his grandfather, to redecorate her home to help her move on with her life.
He said it was a deranged and dishonest notion, and that the court was dealing with hard working people who'd made a dreadful mistake in 2009.