Delisting of Ballyloran House in Larne is discussed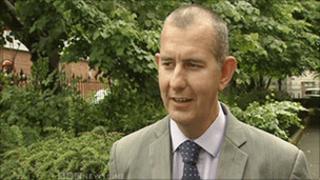 The environment minister has called a meeting on Thursday to urgently consider delisting an historic building in Larne, the BBC has learned.
Edwin Poots has asked the Environment Agency to consider the delisting of Ballyloran House, which dates from 1868, before he leaves office on 5 May.
The Ulster Architectural Heritage Society has said it is concerned by the timing of the move.
"I can't really understand the haste," the society's John Anderson said.
"I would have thought that possibly it must be to do with a strong lobby coming from somewhere."
He added: "There are standard procedures to be followed, there is a normal timescale to be followed I would hope that everything in relation to planning policy and the various policy statements dealing with this kind of thing are followed to the letter as they should be in any case."
Mr Anderson said that while the house had fallen into a state of disrepair in recent years "given the right buyer I'm sure the house would be restored to its former glory".
In a statement the Department of Environment said: "Officials from the Northern Ireland Environment Agency are meeting this week with the Historic Buildings Council to discuss the listing status of Ballyloran House.
"The agency will also be consulting with Larne District Council.
"The minister sought to clear a lot of business before leaving office including this issue after due consideration was given to all the issues raised."