Family in Northern Ireland treatment vow over ill boy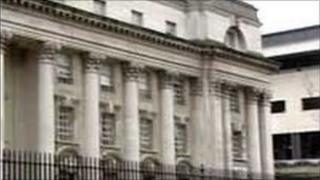 The family of a 16-year-old boy who was told he would have to go to England for psychiatric help have said they will fight to have him treated locally.
A judge ruled on Wednesday that the Department of Health did not follow the correct procedures when it decided to send him to a facility in Northampton.
The judge overturned the decision to have the teenager treated in England.
His stepfather, who cannot be named to protect the boy's identity, said the treatment should be available in NI.
"We just keep fighting, we keep going. We stay strong. He is staying strong and the family will all come together the way we always do," he said.
"We will do everything in our power to make sure that he doesn't go there and he gets the right help here."
"He is a young man who just found himself in a wee bit of difficulty, a wee bit of depression. The depression now is over.
'Absolutely frightening'
"He is a good kid and all he wants is to get better and get home to his family where he belongs."
He said the prospect of the boy being sent to England was "absolutely frightening".
"I've seen nights when me and his mother have sat up, we couldn't sleep, he was getting so upset," he said.
The boy's mother said her son's condition had improved.
"He's great now. He's been great for over four weeks now and things are starting to look up."
The chair of the Royal College of Psychiatrists in Northern Ireland Dr Philip McGarry said that it was normally better to have people treated locally.
"My understanding is that over the last two or three years, the number of referrals of patients out of Northern Ireland has significantly reduced," he said.
"That is good, it's better for families, it's better for patients and it's also more cost-effective for the service."
The planned three-month transfer, at an estimated cost of £100,000, was put on hold in March after judicial review proceedings were launched.
It was claimed that the plan breached the right to privacy and family life.
Lawyers claimed the Department of Health failed to exercise its discretion properly and raised a further point about a requirement to seek consent from a patient for mental treatment.
Ruling on the case in the High Court on Wednesday, the judge noted that the authorities had not seen an expert medical report before ordering the teenager's transfer.