NI v Republic Nations Cup coach charges 'ridiculous'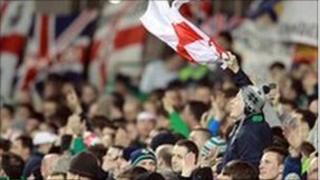 The Irish FA is under criticism for overcharging fans travelling to Dublin for this month's Nations Cup game.
The IFA said that, due to the behaviour of some fans at the Scotland match in February, it has decided that fans must only travel on its coaches.
The coaches will depart from a number of locations across Northern Ireland.
John Larmour from Albert Foundry - NI Supporters Club has said the £30 per seat on a coach in addition to the £27 for a match ticket is "ridiculous".
Mr Larmour said fans could have arranged transport for a third of the cost.
"They will not let us put our own buses on and they're charging the ridiculous price of £30 to go to Dublin on the bus alone and it's £27 for a ticket," he said.
"On the Scotland game we put a bus on for £490 and we put 53 people on it."
Mr Larmour said he did understand the IFA's reasons for the move.
"I can see that they want to stop a few Northern Ireland supporters and keep them under control, but it doesn't give them the right to rip us off to the tune of £20," he said.
'Tidy wee profit'
The Northern Ireland fan said a small group of people out of five or six thousand supporters "have destroyed it for us, but the responsibility for the price of the bus lies with the IFA."
Mr Larmour said he would boycott the match in protest.
"I won't go, whether it be the IFA or their travel partner Travel Solutions, I'm not going to let anybody rip me off," he said.
"If they got the same amount of support to go to the Republic game that went to watch the Scotland game it would be something like 120 buses.
"Now Travel Solutions will be making something like £1,100 a bus, now there's a nice tidy wee profit for one days work."
The IFA said the decision to link match tickets to transport was taken in consultation with the Football Association of Ireland, PSNI and Gardai.
In a statement the association said bad behaviour would "not be tolerated by the Gardai and/or stadium stewards" and any fans causing trouble would lose their block booking tickets for future Northern Ireland home matches.
"The association would ask all fans to behave sensibly and remember they are ambassadors for Northern Ireland and the Irish FA," the statement said.