Prison body searches lawful - Mr Justice Treacy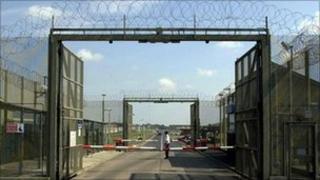 A High Court judge has ruled that the routine full body searching of prisoners each time they enter or leave the prison is lawful.
Mr Justice Treacy also found that the policy of forcible body searching of non-compliant prisoners was lawful.
The judge ruled it was not incompatible with the European Convention on Human Rights (ECHR).
The challenge to the policy and practices of the NI Prison Service was brought by Belfast man Brendan Conway.
He is a remand prisoner at Maghaberry Prison in County Antrim, understood to be in custody in connection with an alleged kidnapping in 2008.
Mr Conway had been refusing to comply with the policy of full body searches of prisoners entering and leaving the prison.
As a result he had been adjudicated upon for offences of prison discipline and subject to forcible full body searching in line with prison policy.
Mr Conway claimed that the routine full body searching of prisoners entering and leaving the prison was unlawful, beyond the legal capacity ("ultra vires") of the prison rules, and incompatible with the ECHR.
He also claimed that the policy of forcible full body searching of prisoners who do not consent to such a search is unlawful and incompatible with the ECHR.
In its evidence, the Prison Service stated that during a full body search the prisoner is at no time required to be completely naked, nor is there any physical contact between staff and prisoner during the search.
The process is normally over in minutes.
The Prison Service also stated that the policy and procedure is the same as that applied throughout the UK and the search method used in Northern Ireland is less intrusive than that applied in England and Wales and the Republic of Ireland.
'Ample authority'
Mr Justice Treacy said he was satisfied the prison rules constitute ample authority for the conduct of full body searches.
The judge also found that the rules can apply on all occasions where there is contact between the prisoner and those outside the prison.
He also concluded that full body and forcible body searching were not disproportionate under the ECHR.
Referring to comments made by English Law Lord Lord Bingham on another case involving full body searches, Judge Treacy said it "must be recognised that the prison population includes a core of dangerous, disruptive and manipulative prisoners, hostile to authority and ready to exploit for their own advantage any concession granted to them.
"Any search policy must accommodate this inescapable fact."
The judge raised one area of concern regarding the searching of prisoners who are being discharged on acquittal or completion of their sentence.
He said he entertained significant reservations as to whether such a routine search on final discharge could be regarded as lawful or proportionate and asked the Prison Service to consider the issue.