Legal fees dispute 'priority for next justice minister'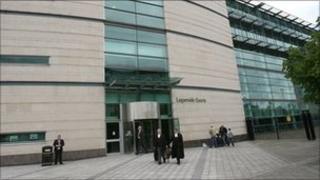 Sorting out a dispute over legal fees should be a priority for NI's next justice minister, the head of the Law Society has said.
Under the rules, introduced by Mr Ford in April, enhanced rates paid out in 'very high cost cases' are to end.
David Ford cut rates paid for legal aid work in an effort to save £18m.
Law Society President Brian Speers said solicitors had withdrawn their services because they said the new arrangements make "proper preparations impossible".
Fees to solicitors have been reduced by 25% under the changes in legal aid for Crown Court proceedings, while barristers rates will also drop by 20%.
But lawyers claim it will represent an average total pay cut of more than 50% and threaten their clients' right to a fair trial.
Defendants being sent for Crown Court trial now face the prospect of having no legal representation.
The Northern Ireland Court Service confirmed that 36 solicitors' firms in Northern Ireland have stopped work on 60 cases in the past three weeks.
Mr Speers insisted David Ford had been warned of the potential consequences before the controversial cuts in payments were introduced.
'Election dust'
The Law Society president said that as the new rules were published during the election 'purdah', he questioned whether the justice committee was given adequate opportunity to consider and comment on them.
He also expressed doubt about whether the savings the minister had spoken of would be achieved.
"Our view is that he simply displaced a saving into another part of the justice system because we are now hearing of defendants receiving prosecution papers," he said.
"There could be delays in trials which have their own knock-on effect in costs, and there could be issues affecting the Prison Service in terms of the prison population."
Mr Speers said a resolution should be "top of the agenda for whoever takes the justice portfolio, whether it is Mr Ford again or someone else".
"When the election dust settles the Law Society takes the view that this matter should receive early and urgent priority," he said.
"The minister needs to simply reflect on advice that senior, responsible criminal lawyers were able to provide, that the Law Society was able to provide, and which unfortunately the minister did not accept.
"Regrettably a situation of which the minister was warned is now occurring. This is why the Law Society feels it should be the day one priority for the minister when the assembly is reconvened."