Ulster Bank reports £391m loss for first quarter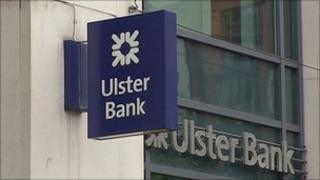 Ulster Bank has posted an operating loss of 441m euros (£391m) for the first three months of 2011.
It said impairment losses rose from €438m (£388m) to €540m (£479m) in the first quarter.
Its parent company, Royal Bank of Scotland (RBS) said it expects charges for bad debts from Ireland to remain high in the next three months.
RBS sustained an impairment charge of £1.3bn in relation to Ulster Bank.
Its earnings were affected by a total of £1.95bn of impairments for bad loans.
The bank said it expects total Ulster Bank impairments to remain high in the second quarter of 2011, before gradually declining in the second half of the year.
Ulster Bank said that the credit quality of its customers had continued to reduce in line with market trends.
It said more than 4,000 mortgage arrangements were put in place for customers having problems meeting their repayments.
These include temporary reductions to repayments or loan extensions where appropriate.
Ulster Bank said its income fell in the first quarter of 2011 compared to the same time in 2010 due to higher funding costs and the continued high cost of deposit raising.
It said it made an operating profit of €98m (£87m) for the first quarter, before impairment charges.
The bank said its early restructuring measures had left it in a position to capitalise on "growth opportunities" that are starting to emerge in the Irish banking market.
RBS, which is 84%-owned by the UK government, reported losses of £528m, compared with losses of £248m in the first quarter last year.
But at an operating level the bank reported a profit of £1.05bn.