Graham Parish case: 'staff not trained in dangers'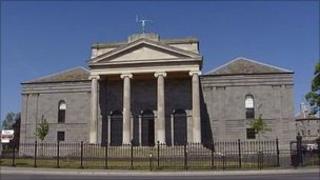 Two bar staff accused of the manslaughter of a British man had not been trained on the danger of fatal doses of alcohol, a court has heard.
Bar manager Gary Wright and barman Aidan Dalton have pleaded not guilty to the manslaughter of Graham Parish in the Hayes Hotel on 30 June 2008.
Mr Parish died in the hotel in Thurles, County Tipperary, in June 2008.
The manager of the hotel agreed with a defence lawyer that the pair's duties included "meeting the needs" of guests.
Mr Parish, from Lancashire, died of alcohol poisoning after a night out celebrating his birthday.
He had allegedly been served eight shots of spirits in a pint glass at the hotel bar, which he downed in one go.
He is also alleged to have been challenging people to drinking contests earlier in the night.
Gerry McGovern, who has been manager of the hotel for the past 22 years, told Nenagh Circuit Court that bar staff at the hotel were supposed to follow a number of unwritten rules including: not to serve alcohol to persons perceived by staff as having too much drink taken, or who were being a nuisance, or who were unsteady on their feet.
The hotel manager said that, "the rule is not to serve alcohol" if the person is "stumbling".
Bar staff, he said, should check to see if the customer was "ok on their feet".
The hotel manager admitted that Mr Wright and Mr Dalton had not received any training on the potential dangers of fatal doses of alcohol.
Drink orders
Lawyer Michael Delaney, defending Gary Wright, put it to Mr McGovern: "One of the main jobs for bar staff is to dispense orders accurately and to ensure the guests needs and requirements are met.
"Do you take it that if an order is made that order is met?" Mr McGovern replied: "Yes".
Evidence was also heard from Garda (police officer) Margaret Leahy.
She arrived at Hayes Hotel shortly after 0600 BST on 1 July, 2008 and found Mr Parish on the floor of a conference room, where he had been left to "sleep it off" around six hours previously by four men who were drinking with him at the hotel bar.
Garda Leahy told the court that when she checked Mr Parish's body for life signs, she "felt no pulse" and that he was "cold to touch". Garda Leahy added that "his skin was blue".
The garda said she later escorted Mr Parish's body to the Regional Hospital in Limerick where a post mortem concluded that Mr Parish died from acute alcohol intoxication.
Garda Leahy said she returned to Hayes Hotel at 1730 BST on 1 July, 2008 where she retrieved the receipt from the previous night's takings at the hotel's main bar.
Under cross-examination, the officer said a receipt showed that at 2239 BST on 30 June, Mr Dalton sold an order of 30 euros worth of shots of spirits, which the court accepted equated to "eight shots of spirits or four doubles", as each single shot cost 3.60 euros.
The trial continues on Tuesday, 10 May.