BBC1 film follows Aaron McCormick repatriation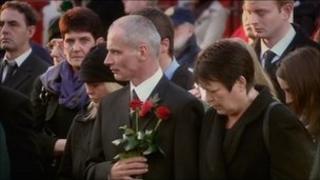 A documentary about the repatriation of a soldier from Northern Ireland who died in Afghanistan is to be to shown on BBC1 on Monday night.
The programme follows people in Wooton Bassett as they prepare for the return of Ranger Aaron McCormick's body.
The RIR soldier from Macosquin in County Londonderry was killed on Remembrance Day last year.
It has become traditional for hundreds of people to line the streets of the Wiltshire village to honour war dead.
Ranger McCormick's parents Lesley and Margaret took part in the repatriation ceremony.
"I didn't cry that day. I was too proud of my son to stand and cry," Margaret McCormick said.
"He wasn't coming off that plane to me standing crying. I was too proud of him.
"I know it might seem stupid to some people but that is the way I felt."
"Wooton Bassett - The Town that Remembers" is being broadcast on Monday 9 May at 2100 BST on BBC1.