Dawn Purvis worried working class areas not represented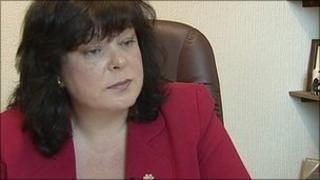 Former PUP leader Dawn Purvis, who lost her East Belfast assembly seat, has said she is worried working class areas will not be properly represented.
Ms Purvis stood as an independent in Thursday's assembly election.
She resigned as PUP leader after the murder of Belfast man Bobby Moffett by the UVF in May of last year.
She said it was clear that PUP votes had stayed with the party, with only 15% of its transfers going to her.
"It's obvious that the PUP vote stayed with the PUP, so I was obviously appealing elsewhere," she said.
"I think that was more likely to be disaffected Ulster Unionist voters when you look at the first preferences that the Ulster Unionist candidates got.
"There is an electorate out there, when you look at the turnout, who are very disaffected and unrepresented."
Ms Purvis, who received 1,702 first preference votes, said she had tried to represent working class areas of East Belfast as an MLA.
"I have concerns and I am worried about issues in working class areas - the two main parties, the DUP and Ulster Unionists, I don't feel have represented those areas very well," she said.
"If you look at the area of educational disadvantage and how it is growing and getting worse, if you look at the area of mental health in the community and the lack of services - I think it is incumbent on those parties to tackle those issues
"I hope that, in whatever I do in the future I can help lobby or press on those issues because those communities now, I feel, don't have a voice."