Security alert police in Derry hand grenade attack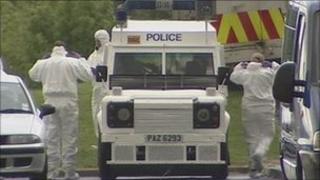 A hand grenade was thrown at police who were dealing with a security alert in Londonderry.
Several homes had been evacuated and Army bomb experts had been called to the scene to examine a suspicious object in Creggan's Southway Road area.
A man threw a hand grenade at officers and escaped in the direction of Kildrum Gardens. It did not explode.
Police said the grenade was "viable" and it was "sheer good fortune" that no-one was hurt or killed.
The PSNI spokesperson said a number of children were close to officers at the time of the attack.
Sinn Fein MLA Martina Anderson described the incident as "futile" and said it would "achieve absolutely nothing".
"Whatever group was behind this attack they need to reflect on the political realities of Ireland in 2011," she said.
"They need to come forward and tell the people of Derry how this will advance the goal of achieving a united Ireland?"
SDLP MLA Mark H Durkan said the attack could have led to "serious injury or loss of life for the police" and that people in the city were "disgusted".
"This type of activity is futile, senseless and is rejected by the majority of people in Derry," he said.
"I strongly appeal to anyone with information on those responsible to pass it onto the police immediately."