Derry mother says grenade could have killed son, 8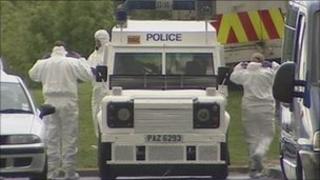 The mother of an eight-year-old boy caught up in a bomb attack in Londonderry on Monday has said he could have been killed.
Christian Kelly - who has special needs - and a friend were talking to police officers during a bomb alert on Southway when the grenade was thrown.
It did not explode but the police say it was a viable device.
Christian's mother Emma said the attacker would have seen the boys before he threw the device.
"It's crazy - he would have seen them as clear as day," she said.
"They didn't care, didn't care who was standing there. I'm scared, but more angry."
Earlier, the PSNI area commander in Derry, Chief Superintendent Stephen Martin, said it was "sheer good fortune" that no-one was hurt or killed.
"There were four officers in fairly close proximity to the attack," he said.
"I have absolutely no doubt that the person who threw this believed it would detonate and if it had detonated I would be talking this morning about seriously injured or killed police officers and young children."
Several homes were evacuated in Monday's alert at Southway and Army bomb experts were called to the scene to examine a suspicious object.
As it was being declared a hoax, a man threw a hand grenade at officers and escaped in the direction of Kildrum Gardens. The grenade did not explode.
Condemnation
Mr Martin said police officers had chased the culprit, but that he had escaped via an alleyway.
He said a further 30 homes were evacuated as a result of the attack for "several hours".
The four officers who were standing close to where the grenade landed were neighbourhood policing team members.
"Everywhere I go as a district commander, people speak with one voice, they say 'we like our neighbourhood policing teams, leave our neighbourhood policing teams alone, they are doing great work'," Mr Martin added.
Last November, three police officers were hurt and one of them suffered serious arm injuries when a grenade was thrown by a cyclist at Shaw's Road in west Belfast.
The dissident paramilitary group Oglaigh na hEireann (ONH) said it was responsible for that attack.
'Futile'
Mr Martin said police would be looking at whether there were similarities between the grenade incidents in Belfast and Derry.
Sinn Fein MLA Martina Anderson described Monday's attack as "futile" and said it would "achieve absolutely nothing".
"Whatever group was behind this attack they need to reflect on the political realities of Ireland in 2011," she said.
"They need to come forward and tell the people of Derry how this will advance the goal of achieving a united Ireland?"
SDLP MP for Foyle Mark Durkan described those responsible as "reckless".
"We are lucky we are able to comment on this in the way that we are and we are not talking about a death or people with horrific injuries," he added.
"It is no thanks to the perpetrators of this attack, they didn't plan this sort of safe outcome."