Liverpool men 'planned to rob' millionaire Michael Herbert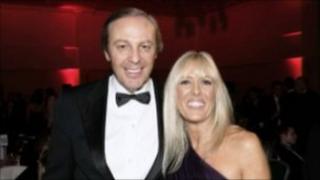 Three men from Liverpool have been charged with conspiring to commit robbery at the home of one of Northern Ireland's richest men.
Michael Herbert is estimated to be worth £171m and appeared in the Sunday Times Rich List at the weekend.
On Monday, Craig Murray, 30, Stephen Barlow, 47, and Richard Blundell, 49, all with addresses in Liverpool, appeared at Belfast Magistrates Court.
They were arrested on the Malone Road in south Belfast last month.
All three were charged with conspiracy to falsely imprison Mr Herbert or members of his family at his home, and conspiracy to commit robbery.
The investigation involved the PSNI's Organised Crime branch and the North West Regional Crime Unit in England.
Michael Herbert is the managing director of Herbel Restaurants.
The group runs Europe's largest chain of Kentucky Fried Chicken outlets. It has more than 70 outlets in the UK and Ireland.
The company also owns a Häagen-Dazs ice cream franchise.
The court case has been adjourned until next month and the three men were remanded in custody.