Woman held in Ronan Kerr murder investigation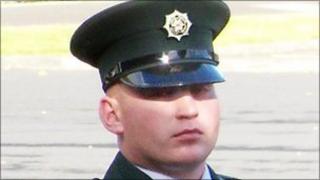 Police investigating the murder of Constable Ronan Kerr have arrested a 36-year-old woman.
Constable Kerr, 25, died when a booby-trap bomb exploded underneath his car in Omagh, County Tyrone, on 2 April.
The woman was arrested in Pomeroy, County Tyrone, on Tuesday. She is being held at Antrim police station.
A search is taking place at a house in Pomeroy. A 33-year-old man appeared in court last month charged in connection with the murder of Constable Kerr.
Gavin Coyle, from Culmore Park, Omagh, was charged with possession of explosives, firearms and articles likely to be of use to terrorists at Dungannon Magistrates Court.
No bail application was made and he was remanded in custody for four weeks.