Belfast woman 'stole perfume to pay gambling debts'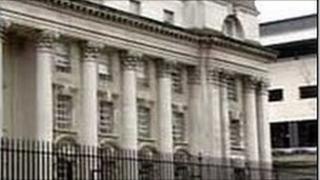 A woman stole more than £1,200 worth of perfume in a bid to pay off gambling debts, the High Court has heard.
Rosaleen Bradley, 27, from Belfast's Antrim Road, claimed she planned to give the bottles to people she owed money to but refused to name, prosecutors said.
She is accused of separate shoplifting offences on 19 April and 3 May.
Ms Bradley was refused bail due to the risk of committing further offences.
Her alleged raid on a branch of Boots in south Belfast came just weeks after she was released on bail charged with stealing £145 worth of clothes from Primark in Belfast city centre.
The court was told Ms Bradley was first stopped by security staff after taking a bag of clothing from Primark without paying.
She was later released by police but banned from going into parts of Belfast city centre.
Last week she was stopped outside Boots in the Boucher retail park, according to the prosecution.
Crown counsel Barry Valentine said she was arrested after perfume valued at £1,253.31 was found during searches of her bags.
"She said she owed money to persons who she refused to name," he said.
"They had suggested to her that she would steal from the Boots store to pay her debts.
"She also said she has gambling problems which led to her debts."
The court heard Ms Bradley has been undergoing rehabilitation for a drug addiction.
Defence lawyer, Luke Curran, outlined a background of problems his client had struggled with.
Referring to the latest alleged theft, he said: "She had just found out she was pregnant and, in her words, went off the rails at that stage."