Northern Bank makes loss of £27m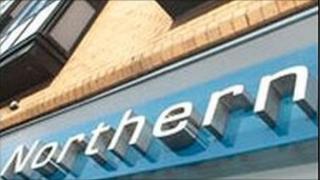 Northern Bank lost £27m in the first three months of this year due to the continuing effects of the property crash.
The bank made an operating profit of £12m, but that was wiped out by a £38m impairment charge - money set aside to cover loans unlikely to be repaid.
Most of those losses relate to loans made to property developers.
Northern's parent company Danske Bank said it expected property prices in NI to continue falling.
Northern's chief executive Gerry Mallon said the results were in line with expectations.
"Market conditions remain challenging and we do not expect to see a reduction in impairment charges before the half year," he added.
The bank's sister company in the Republic, NIB, reported a pre-tax loss of 161m euros (£141m) for the first three months of the year as it set aside 172m euros (£151m) in provisions for bad debts.
NIB's parent group, Danske Bank, said its first quarter pre-tax profits rose by 8% to 201m euros (£176m) as it set aside 381m euros (£334m) for loan impairment charges.
"Proportionally, Ireland is still the largest sinner, and after that is Nothern Ireland," Danske's chief executive Peter Straarup said.
"I expect, unfortunately, that Ireland can be costly for the remainder of the year as well," Mr Straarup said.