Cycling Craigavon pensioner 'had loaded revolver'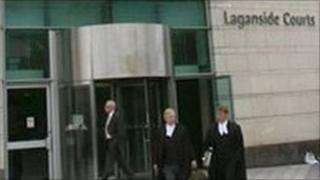 A pensioner caught with a loaded pistol and ammunition in his cycle saddle-bag in January 2009, has gone on trial in Belfast at a non-jury Diplock Court.
Patrick Joseph McDaid, 66, of Meadow Bank, Craigavon, was charged with having a .38 Smith & Wesson and bullets on the outskirts of Newry.
Mr McDaid claimed he was acting under duress in having the pistol.
A Crown lawyer said his account of being approached by someone he did not know, "was implausible".
The lawyer said Mr McDaid was stopped by plain-clothed police while cycling northwards on the tow-path at Jerrettspass and asked if he had anything he was not allowed.
He allegedly replied: "Ah, I have, I think it's a gun in a bag on my bike."
He is alleged to have said he was supposed "to meet a boy on the tow-path who was to say, 'have you the library book?'
'Get a gun'
"I never touched nothing. I didn't know the boy."
The lawyer claimed that Mr McDaid also told officers that he "went to Newry to meet a boy to get a gun for a boy".
The court heard that later when the saddle-bag was searched it contained the revolved loaded with two live rounds and a plastic container with a number of other cartridges, including a number of rounds known as anti-aggression cartridges.
It was during police interviews following his arrest that Mr McDaid made the case that he was approached at his home by a man he did not know who asked him "to do this".
The lawyer said cycling was Mr McDaid's hobby and he regularly cycled long distances and cycling from Craigavon to Newry was "nothing to him".
"He believed he was doing it for republicans and that he was in fear that something might happen if he didn't and he was told he would be contacted for recovery of the items," said the lawyer.
The trial continues.