New Executive ministers to be appointed on Monday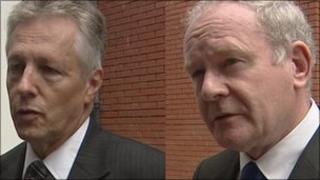 Stormont sources say the first session of the Assembly on Thursday will deal with the election of the Speaker.
After the five main party leaders held discussions on Tuesday afternoon, they agreed that ministerial appointments should be made on Monday.
On Thursday and Friday, talks will be held on the Review of Public Administration and the Cohesion Sharing and Integration strategy.
Sinn Fein are thought to be raising the issue of the Speaker.
Paisley statement
Although Martin McGuinness said on Monday that Willie Hay had done a good job as Speaker, he added that the post was symbolically significant.
Sinn Fein is pointing to a statement made in the chamber by Ian Paisley back in May 2007 when Mr Hay was appointed.
The former first minister said then: "I acknowledge that at the next Assembly election, we will support a candidate drawn from the other side of the house.
"Of course, that will rest with the people because we will go back to the people for new mandates.
"However, all things considered, if we do well we will support someone from the other side of the house in the next Parliament."