Irish Finance Minister Michael Noonan announces tax cuts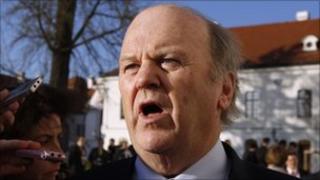 The Republic of Ireland is to cut tourism and travel taxes to try to turn around its economy by attracting more tourists to the country.
Finance Minister Michael Noonan said VAT on restaurants, hotels, cinemas, theatres, sports fixtures and other attractions will fall from 13.5% to 9%.
A controversial three euro (£2.64) air travel tax will also be abolished
Short-term visa requirements will be relaxed for holiday-makers from 14 countries worldwide.
Mr Noonan said the VAT cut will be a temporary measure - from 1 July to December 2013. It will be kept under review to make sure the savings are being passed on to the customer.
Newspapers, magazines, golfing fees and hairdressing will also come under the new lower 9% VAT rate because of their links with the tourism industry.
Other measures include a reversal to the cut in the minimum wage; extra funds for school building/improvement programmes and more training and internship places.
The air travel tax is to be removed, provided airlines open new routes and boost passenger numbers.
However, it is not being taken off the statute book and will be reinstated if airlines do not do so.
There are also plans to pilot a "finder's fee" of 3,000 euros (£2,637) for Irish expatriates who come up with successful investment ideas that create jobs back home.
Mr Noonan described the measures as the first step to improve the Republic's economic competitiveness and said it was about encouraging employment.
He said an independent fiscal advisory council would be established by the end of the summer and would represent a new approach to the management of the public finances.
He also said Ireland's corporate tax rate of 12.5% is "here to stay" as it is "a vital element of our industrial policy".