Rebuilt school Braid Primary 'set to close'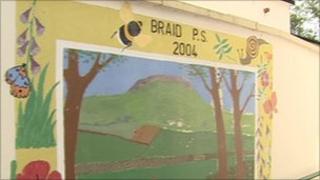 A County Antrim school which was only rebuilt seven years ago has been earmarked for closure.
Braid Primary School near Ballymena has not officially been told it is closing.
However, already all 16 pupils have left and teachers are clearing out the books and equipment to give to other schools.
The new building cost £375,000 and it could be sold off.
Brian McCaughan, the principal of the school, said: "Because there were so few pupils in each class group in the school, parents and teachers decided that it would be in the best interests of those pupils to go onto another larger school where they would have the opportunity to socialise much more.
"The children really wanted to stay, however it was determined it was in their best interest to go onto to other larger schools."