Ruling due in compensation case involving Derry men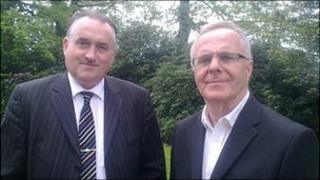 The UK's Supreme Court is due to rule later on whether to award compensation to a Sinn Fein Assembly member and a Londonderry journalist whose 1970s murder convictions were quashed.
Raymond McCartney and Eamonn MacDermott were cleared on appeal after judges declared unease about the safety of the guilty verdicts.
Two previous bids for compensation have been refused.
The Supreme Court ruling is being seen by legal experts as a landmark case.
It could have implications for dozens of former prisoners in England, Wales and Northern Ireland.
Judges are to clarify the position for the two Northern Ireland men and another from England who were all refused compensation after their murder convictions were quashed.
The other man is Andrew Adams, from Newcastle, who spent 14 years in jail after being wrongly convicted of murder.
His is the main case in the proceedings.
Hunger strike
Raymond McCartney and Eamonn MacDermott were convicted of murdering RUC officer Patrick McNulty in Derry in 1977.
Mr McCartney was also found guilty of murdering DuPont managing director Jeffrey Agate in the city a week later.
Mr McCartney spent 17 years in prison. During that time he became the IRA's officer commanding in the Maze and spent 53 days on hunger strike.
Eamonn MacDermott spent 15 years in prison, later working for the Derry Journal.
He said on Tuesday he was hopeful compensation would be awarded for the time he spent in prison.
"I think a lot of people find it very hard to believe that you could spend years in prison and not be entitled to some sort of compensation," Mr MacDermott added.
"I think this is the first time the Supreme Court has actually dealt with the question of what constitutes a miscarriage of justice, so it will be interesting to see what way they phrase it and what way they deal with it.
"How narrow or how broad the definition is remains to be seen."
Both NI men were cleared in February 2007 after judges said there was doubt about the safety of their guilty verdicts.
An earlier bid to win compensation through a judicial review was dismissed in 2008.
Last year, the Lord Chief Justice reserved judgement on their appeal.