Sex offender pleads guilty to Londonderry bomb hoaxes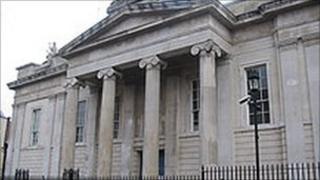 A convicted sex offender has appeared at Londonderry Magistrates Court charged with causing two bomb hoaxes in the city.
William O'Connor, 46, who had an address in Slaughtmanus Road, pleaded guilty to the charges.
They relate to alerts at Foyle Street bus depot and the Waterside Medical Centre in Spencer Road on Monday.
A police officer told the court information about the defendant on their computer system led them to him.
O'Connor, who has been homeless since March, has been remanded in custody.
He will be sentenced in June.