Compensation for Derry men in landmark case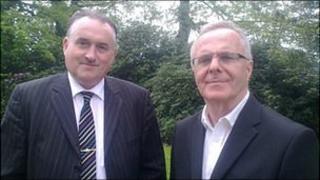 Two NI men should be awarded compensation after a landmark ruling by the UK Supreme Court said the test for payments to those wrongfully convicted should be redefined.
Sinn Fein MLA Raymond McCartney and journalist Eamonn MacDermott were jailed for life in the 1970s for murder.
They were later cleared on appeal.
Two previous compensation bids by the Londonderry pair were refused.
President of the Supreme Court, Lord Phillips, said the new test should ensure innocent defendants are not precluded from obtaining compensation because they cannot "prove their innocence beyond reasonable doubt".
Raymond McCartney and Eamonn MacDermott were cleared on appeal after judges declared unease about the safety of the guilty verdicts.
The Supreme Court ruling could have implications for dozens of former prisoners in England, Wales and Northern Ireland.
Another man involved in the case on Wednesday, Andrew Adams, from Newcastle upon Tyne, who spent 14 years in jail after being wrongly convicted of murder, lost his appeal.
The Supreme Court ruling means people will receive statutory compensation under section 133 of the Criminal Justice Act 1988 if the Justice Secretary accepts that a new fact has so undermined the evidence against them "that no conviction could possibly be based upon the evidence in their cases".
The court found Mr Adams did not fall within this new definition.
The Ministry of Justice said it welcomed the Supreme Court decision.
It said that following the new test set out by the court it "expected that compensation will still only be paid in very few cases".
Hunger strike
Raymond McCartney and Eamonn MacDermott were convicted of murdering RUC officer Patrick McNulty in Derry in 1977.
Mr McCartney was also found guilty of murdering DuPont managing director Jeffrey Agate in the city a week later.
Mr McCartney spent 17 years in prison. During that time he became the IRA's officer commanding in the Maze and spent 53 days on hunger strike.
Eamonn MacDermott spent 15 years in prison, later working for the Derry Journal.
Earlier on Wednesday, he said he was hopeful compensation would be awarded for the time he spent in prison.
"I think a lot of people find it very hard to believe that you could spend years in prison and not be entitled to some sort of compensation," Mr MacDermott added.
After the ruling, Mr McCartney said he felt "totally vindicated".
"Former lord chief justice (of Northern Ireland) Brian Kerr has stated in the course of the judgment that not only should we have been acquitted, but we shouldn't have faced trial in the first place," he said.
"This is a damning indictment of the RUC's (Royal Ulster Constabulary) interrogation techniques at the time and a damning indictment of the actions of the Public Prosecution Service at the time.
"This better defines what is a miscarriage of justice, so it will provide other avenues for people in a similar position to explore."
Both NI men were cleared in February 2007 after judges said there was doubt about the safety of their guilty verdicts.
An earlier bid to win compensation through a judicial review was dismissed in 2008.
Last year, the Lord Chief Justice reserved judgement on their appeal.