How Declan Kelly helped bring US investment to NI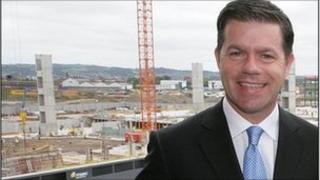 Declan Kelly will be missed by Northern Ireland's politicians and business leaders.
The 42-year-old has been routinely praised for his energy and commitment to the cause of boosting the local economy.
As a former top executive with one of the biggest financial public relations firms in the world, he provided NI with unprecedented access to America's corporate elite.
He took up the role in September 2009 and quickly made his presence felt in political and business circles in Northern Ireland.
His involvement ranged from the economic to the political and even cultural.
He worked alongside Invest NI on inward investment projects and events, such as the US-Northern Ireland Investment Conference.
He worked with Stormont ministers when they visited New York and Washington DC and he kept a close personal eye on the sensitive negotiations at Hillsborough, which led to the breakthrough on devolving policing and justice.
As a seasoned PR operator he was credited with having a big impact as a member of the winning Derry/Londonderry bid team for UK City of Culture.
A native of Portroe, Nenagh in County Tipperary, he is a journalist by trade and a former reporter on the Cork Examiner, but he made his fortune in public relations.
A firm he founded in Ireland was bought by Financial Dynamics, a global financial communications company, where he took a senior role.
Financial Dynamics was itself then bought by another firm FTI Consulting for $260m - the biggest price ever paid for a public relations firm.
Family ties
As a senior executive with the company in the US, this deal made Declan Kelly independently wealthy.
He retains strong family links in Ireland - his brother Alan is Labour TD for Tipperary North.
He was not the first person to assume the role of special envoy.
The post was initially created by Bill Clinton with the appointment of Senator George Mitchell in 1995.
This, however, was widely seen at the time as a cover for political liaison.
Following Senator Mitchell's departure to a more overtly political role as talks chairman, a purely economic role was filled by another Clinton supporter - Denver lawyer Jim Lyons.
The post did not exist during George W Bush's years in the White House and was reborn with Declan Kelly's appointment in 2009.
There is no indication that the US Secretary of State Hillary Clinton has any immediate intention to replace Mr Kelly - something which may concern politicians and business leaders on this side of the Atlantic.
Irreplacable
No other region enjoys such an envoy and to some extent it was a role tailor-made for Mr Kelly.
It is not a position that could be easily filled.
One of Declan Kelly's most controversial interventions as envoy was a speech he delivered to the Northern Ireland Chamber of Commerce where he effectively told the business community to stop complaining and start delivering.
If the audience of business leaders were expecting the usual warm words and platitudes, they got a shock as he lambasted a prevailing negative attitude and reliance on external support.
It may have been his way of hinting at his own imminent departure from the role and a change of approach on the part of the US government.
If the underlying message was one of Northern Ireland business and industry needing more self-reliance than outside intervention, it could suggest a replacement isn't coming any time soon.