The mum who refused to give up on her disabled son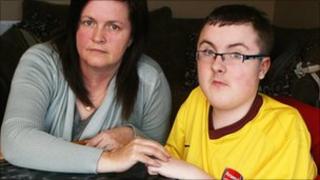 Marina Lupari is a remarkable woman - award winning nurse, and fantastic mum to her 14-year-old son Marc, who suffers from duchenne muscular dystrophy, a life limiting disease.
You may remember her from Talkback a few days ago.
She couldn't get her health trust to pay for a £1,000 back brace for Marc.
But during the programme, the Belfast Trust had a change of heart, and Marc is being fitted on Wednesday for the support which will make such a difference to him.
But there's more to this story - Marina isn't the only remarkable woman involved.
On Monday, a woman who only wanted to be identified as a nun contacted Talkback.
She wanted to pay for Marc's brace, and when we told her he was already getting one, she insisted he have the money anyway.
She handed over £1,000.
We have it to give to a tearful Marina, who was overwhelmed by such an act of kindness and generosity.
As if that wasn't enough Talkback had more offers from listeners - one would have paid himself; then once we heard Marc wanted to use some of the money to go and watch his beloved Arsenal, Big Gordy texted that he had an Arsenal v Man U programme for him, and Brendan wanted to give him his Arsenal stadium book.
Marina says it's all thanks to the radio and the Irish News where the story originally appeared.
It was great to give her a voice - and great to tell a story which really does restore your faith in human nature.