Graham Parish case: Barman thought shots to be shared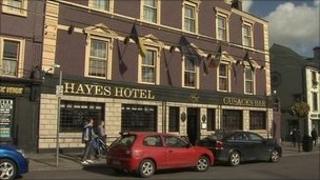 A barman who served a cocktail of shots to a hotel guest who died of alcohol poisoning told police he believed the drink would be shared with his friends.
Bar manager Gary Wright and barman Aidan Dalton have pleaded not guilty to the manslaughter of Graham Parish in the Hayes Hotel on 30 June 2008.
Mr Parish was found dead in the hotel in Thurles, County Tipperary.
On Wednesday, Nenagh Circuit Court was read statements taken from the co-accused by investigating officers.
Mr Dalton told police he asked his bar manager, Mr Wright, if it was OK to serve about 10 shots in a glass to a birthday boy - who was nicknamed Shaggy - as he had never served more then a triple in the past.
"Shaggy's friend bet him to drink it and he was fully aware what was in the pint glass," the statement read.
"I asked Gary if it was OK to give him a pint glass of spirits. He said it was OK... it was just a bit of fun.
"I then served this drink to Shaggy."
In a later interview Mr Dalton told officers he believed the mix of drinks was going to be passed around the group to share.
"If I realised he was going to slam it I wouldn't have served it," the statement added.
Mr Parish, a father-of-two from Calder Terrace in Lomeshaye village near Nelson, east Lancashire, had been working as a civil engineer in the Republic.
He was celebrating his 26th birthday on the night he died.