German drugs smuggler Hans Reuter loses transfer case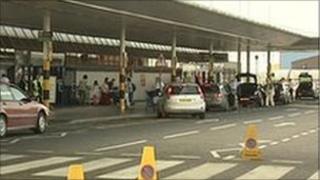 A 64-year-old German man jailed over a major drugs smuggling plot has failed in a High Court bid to be moved to Northern Ireland's most open regime.
Hans Ulrich Reuter will be deported back to Germany, and possibly on to Kenya, next month after completing a 10-year sentence for having cocaine.
He was convicted of possessing more than 13kg of cocaine seized at Belfast International Airport in June 2006.
Reuter had been refused transfer to the Foyleview facility at Magilligan jail.
He was seeking to judicially review this decision by prison chiefs.
The unit provides accommodation and resettlement programmes for prisoners nearing the end of their sentences.
Lawyers for Reuter claimed the decision involved an error of law and insisted he was a low-risk inmate.
However, counsel for the prison authorities argued there had been a delay in bringing the challenge, pointing out that he is due to be deported in five weeks time.
The court was told Reuter is to be deported back to Germany, with reference also made to a possible intention to then move him on to Africa.
Tony McGleenan, representing the Prison Service, pointed out that prisoners normally need to have at least four months left on their sentences to qualify for a move to the unit.
"There is no point in putting someone into Foyleview for four to five weeks," he said.
"There is no resettlement purpose to be served for someone about to be deported to Germany and/or Kenya."
The judge, Mr Justice Treacy, refused leave to seek a judicial review on the basis that the case was unlikely to be resolved within that timeframe.
He also accepted submissions that there had been "a significant and unexplained delay" by Reuter in bringing the case.
"The information has been available to the applicant to mount a challenge, if he so wished, at lease since November 2010," Mr Justice Treacy added.
"He seems to have sat on his hands and done nothing in the intervening period."