MLAs in chamber at Stormont to elect new speaker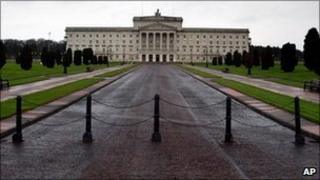 NI's newly elected MLAs have gathered in the assembly chamber at Stormont to elect a new speaker.
Outgoing speaker Willie Hay is hopeful he will stay in the position, but may face opposition from Sinn Fein.
DUP leader Peter Robinson will be reappointed first minister, with Martin McGuinness continuing his role as deputy first minister.
The names of the MLAs who will sit in the executive and what jobs they will do will not be known until next Monday.
The oldest MLA in the assembly, the UUP's Sam Gardiner, will become 'father of the house' and he will chair the election process for speaker.
Mr Gardiner replaces Rev Dr Ian Paisley, now Lord Bannside.
In 2007 Ian Paisley promised he would support someone from the other side of the house as speaker.
It is unclear if Sinn Fein will hold Peter Robinson to Ian Paisley's pledge to back a nationalist speaker.
Given that the new republican team is 29 strong, and they need 30 MLAs to sign a petition of concern, some argue that Sinn Fein would prefer to retain its full quota of MLAs rather than lose one to the neutral speaker's role.
There will also be an election on Thursday for three deputy speakers.