Cameron to visit Irish Republic during Queen's visit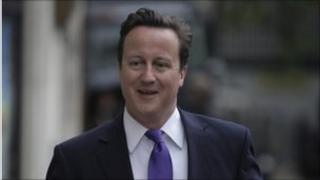 David Cameron will make his first visit to the Irish Republic as UK prime minister next week, Downing Street has said.
The trip will coincide with the Queen's state visit to the country - the first official tour of the republic by a British monarch.
Mr Cameron has described her visit as a symbol of the "strong partnership and friendship" between the two countries.
The PM is expected to hold talks with new Taoiseach Enda Kenny.
Mr Kenny, who was elected in March, said he and Mr Cameron would discuss European issues, the make-up of the new Northern Ireland Assembly and the potential of developing the all-island economy.
Chancellor George Osborne last year agreed a 3.8 billion euro (£3.3bn) loan to Ireland - one of the UK's biggest trading partners - as part of an EU-IMF economic rescue package.