Peter Robinson backs Balmoral Show move to Maze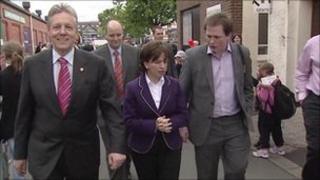 An announcement on moving the Balmoral Show to the former Maze prison site is expected to be made shortly.
First Minister Peter Robinson, who has been involved in negotiations with organisers the Royal Agricultural Society, has said he backs the idea.
It has been held at the King's Hall in Belfast for 143 years but this will be the last time as the grounds are to be redeveloped.
Mr Robinson said a move to the Maze site would benefit the whole show.
"Obviously we want to see the Maze project moving forward," he added.
"I think the show would be an excellent anchor for the site and we could build an awful lot around it."
The site of the Maze was originally earmarked for a multi-million pound sports stadium but the plan was shelved when politicians failed to agree on the proposal.