Neil Lennon's home town Celtic fans' club in SFA appeal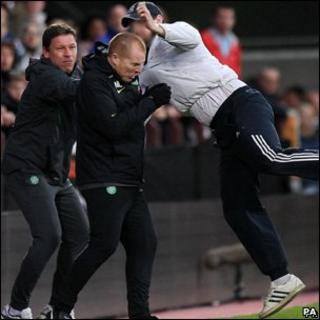 The chairman of the Celtic supporters club in Neil Lennon's home town has said a strategy is needed in Scotland to deal with sectarian attacks on him.
A man has been charged in connection with an alleged attack on Mr Lennon during the game between Hearts and Celtic on Wednesday.
Two men have also been held by police investigating parcel bombs sent to him.
Eddie Seeley of Lurgan Glasgow Celtic Supporters Club said more needed to be done.
He has called for a coordinated strategy to be set up by the Scottish Football Association (SFA) to tackle the threat to the Celtic boss.
"It has become more and more frustrating for Celtic supporters watching this all," Mr Seeley said.
"He lives in threat and his family lives in threat, there is frustration that this seems to roll on and on. It is awful pressure.
"I am calling on the SFA, the Scottish police and the Scottish government, including First Minister Alex Salmond, to get together and get a strategy to deal with this issue."
Supportive
Mr Seeley said he felt there was an "underlying problem in Scottish society of sectarianism" which needed to be addressed.
He said the remit of any strategy should go beyond looking at the rivalry between Celtic and Rangers and involve fans of all Scottish clubs.
"Politicians can talk until they are blue in the face, you need to involve supporters in this," he added.
"We want to make it clear there should be no culpability for Rangers in this incident."
Mr Seeley said the Lurgan club was the largest individual Celtic FC supporters club in the UK with more than 420 members.
He said he had contacted Mr Lennon's parents to offer support after the parcel bomb incidents and that the Celtic boss had visited the County Armagh club last year with some of his players.
"We are extremely proud that he is from Lurgan and is the Celtic manager," he added.
"We were in touch with Neil's parents after the parcel bombs, the family appreciated it and the comments were passed on to Neil.
"They are a strong family and very supportive of him."
Mr Seeley added that he hoped the series of threats against Mr Lennon would not force him from his position as Celtic boss.
"We certainly hope not, and any reasonable person would not want that," he said.
"He is building something that could be very special and we want him there for the long term."