NI's newly elected MLAs sign the register at Stormont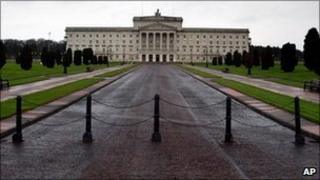 NI's new assembly members have signed the register in the chamber at Stormont.
There are 24 new faces among the 108 members.
A new speaker will be elected when proceedings resume on Thursday afternoon. It is expected that the DUP's William Hay will be returned to the post.
The First and Deputy First Ministers' Peter Robinson and Martin McGuinness will also be reaffirmed in their jobs.
BBC NI's political editor Mark Devenport said a deal had been struck between the DUP and Sinn Fein over the speaker's job.
"The job is going to go to William Hay, but it looks like he won't actually be performing that role for the entire period of this assembly," he said.
"Instead maybe three years down the track, he is likely to step aside and there's likely to be a rotation, so that Sinn Fein, probably Francie Molloy, can come in and take that job.
That would be the DUP honouring a past promise from Ian Paisley that they would support a nationalist for this job."
Three deputy speakers will also be elected on Thursday.
It took about an hour to complete the formal registration process of signing in the new MLAs.
There are some new faces taking their seats at Stormont for the first time.
Among them are the DUP's Pam Lewis, Sinn Fein's Sean Lynch, Ulster Unionist Joanne Dobson and the SDLP's Colum Eastwood.
The TUV's Jim Allister, a staunch critic of the system, has also formally taken up his post.
There are 38 DUP members, 29 Sinn Fein, 16 Ulster Unionists, 14 SDLP and eight Alliance.
Stephen Agnew took up the sole position for Green Party, while David McClarty remains an Independent.
The former Sinn Fein leader Gerry Adams, now a TD, watched the proceedings from the visitors' gallery.
The names of the MLAs who will sit in the executive and what jobs they will do will not be known until next Monday.