Graham Parish case: Barmen cleared of manslaughter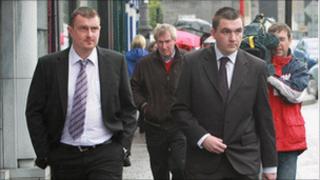 Two Irish barmen have been acquitted of the manslaughter of a British guest at a hotel in County Tipperary.
Graham Parish from Lancashire died of alcohol poisoning after celebrating his 26th birthday at the Hayes Hotel in Thurles on 30 June 2008.
Among the drinks he had consumed was a mix of at least eight shots in one glass which he downed in one go.
Bar manager Gary Wright and barman Aidan Dalton had pleaded not guilty to his manslaughter.
On Thursday, Judge Thomas Teehan, at Nenagh Circuit Court, said no jury could safely bring in a verdict of guilty on either of the accused.
The judge told the jury that the accused had a duty of care to Mr Parish, had breached that duty of care, and their negligence was gross.
However, he found that negligence was not the cause of the victim's death.
Referring to Mr Parish downing the eight-shot drink, he said the courts placed a high importance on individual responsibility.
"A decision was taken by Mr Parish, even after Mr Dalton and Mr Wright came to the conclusion that the drink should be served," Judge Teehan said.
"He then took the decision to consume that drink and that was a supervening event to break the chain of causation."
At at previous hearing in the case, a police officer said she arrived at Hayes Hotel shortly after 0600 BST on 1 July 2008, and found Mr Parish on the floor of a conference room, where he had been left to "sleep it off" around six hours earlier by four men who were drinking with him at the hotel bar.
She told the court that when she checked Mr Parish's body for life signs, she "felt no pulse" and that he was "cold to touch".
The officer added that "his skin was blue".
She said she later escorted Mr Parish's body to the Regional Hospital in Limerick where a post mortem concluded that he had died from acute alcohol intoxication.
Mr Parish's parents David and Julie and his sister Jess said they hoped he had not died in vain.
In a statement, the family said the young father of two was a sociable person and a doting parent.
"On the night of his death, he was celebrating both his birthday and the recent birth of his son," they said.
Since becoming a father, he rarely drank and had restructured his work to spend more time with his family.
"Unfortunately, this rare opportunity to 'let his hair down' resulted in his death and left his young family fatherless," the family statement added.