Four admit £50,000 video blackmail plot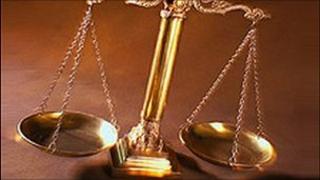 Four men have admitted involvement in a £50,000 blackmail plot.
The case involved the blackmail of an east Antrim businessman by threatening to release a stolen video "of a personal nature" to the media.
Eugene McKee, 54, and Michael Kearney, 35, pleaded guilty to blackmailing the businessman, known only as witness A.
James Kearney, 29 and 33-year-old Stephen Parker pleaded guilty to assisting offenders. One other man continues to deny involvement.
He is 47-year-old Paul Braniff from Windmill View in Ballynahinch.
Prosecuting QC Ciaran Murphy told the Belfast Crown Court jury and Judge Patrick Lynch QC the guilty pleas were acceptable to the prosecution.
When the trial started on Wednesday, the jury was told that the businessman received demands for a "one-off payment" of £50,000 in May 2007 or the video would be released to the press and police.
However, at the arranged handover on 29 May at a carpark of the Shankill Road, police were lying in wait and swooped when witness A put a bag containing £15,000 into the back of Parker's car.
Parker, from Westrock Gardens and James Kearney, from New Barnsley Parade, both west Belfast were arrested in the carpark while McKee was arrested shortly afterwards in his Woodside Drive home in Dunmurry.
Officers tried to stop a blue Isuzu trooper jeep driven by Michael Kearney, of no fixed address, with Braniff in the passenger seat, but Kearney ran off and was arrested a few weeks later at the start of July.
Judge Lynch adjourned passing sentence until pre-sentence probation reports have been compiled and although he released all four men on bail, he warned them not to take that as any indication "as to the final disposal of the case".