NI Apprentice contestant Jim Eastwood saves himself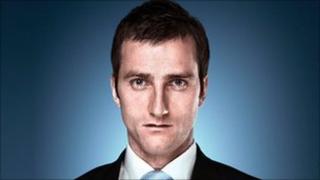 Northern Irish Apprentice contestant Jim Eastwood has already made his mark on the series, after only two episodes.
He was on the losing team in Wednesday night's show, and was initially selected as one of the three contestants to face elimination at the hands of Lord Sugar.
According to the show's rules, the losing team captain must select two of his colleagues to join him in Lord Sugar's boardroom, to fight for their place in the next episode.
However, in an unprecedented first for the programme, Jim managed to convince team captain Leon Doyle to reverse his decision, launching a merciless attack on other contestants in order to save himself.
Much to Lord Sugar's obvious amazement, the Cookstown man escaped with his dream of becoming the next Apprentice very much intact.
"I thought he was fantastic," said Stella Gilmartin, an assertiveness trainer at Dublin-based company Sureskills.
"He's raised his head above the rest of the team. I'd give him a good nine out of 10 for that performance."
Ruthless streak
Having put in two competent performances in Lord Sugar's tasks, Jim showed a ruthless streak on Wednesday night that could be his making, or indeed his undoing.
His former employer Sean Coyle said Jim has shown he is one of the series' "heavyweights".
"Jim will always do what he has to do to survive.
"He'll do it as nicely as possible but if he has to be ruthless he will be."
Mr Coyle believes there is much more to come from Jim, who was a very popular entertainer in his old job, where they had nicknamed him 'Clint'.
Jim must be careful however that he doesn't begin to alienate his fellow contestants, as we have seen happen with so many strong personalities on the show in the past.
He has shown that he is assertive, good under pressure and certainly a force to be reckoned with.
However he is always treading a fine line between confidence and arrogance, sangfroid and callousness, determination and aggression.
He must ensure he gets the balance right.
That said, winning the series can be as much down to good fortune as anything else. The finest margins can separate victory from defeat.
Only one thing is for certain. However he handles it, if he is going to be crowned Lord Sugar's next apprentice, 'Clint' will have to ask himself one question.
Do ya feel lucky? Well, do ya punk?