NI abuse survivors meeting over inquiry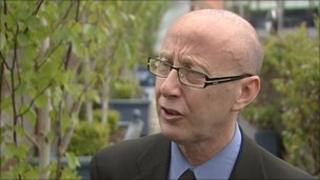 Survivors of institutional abuse have called on the incoming executive to deliver an independent inquiry.
The executive announced last December that it would hold an inquiry and appointed a taskforce to look at how it should be taken forward.
The decision came following the Ryan Report in the Irish Republic which uncovered decades of abuse in Catholic and state-run institutions
NI survivors will meet later to discuss what they want from an inquiry.
They will then submit their proposals to the taskforce.
Organisers have said the gathering at the Europa Hotel in Belfast will be addressed by survivor of institutional abuse Margaret McGuckin, as well as Patrick Corrigan of Amnesty International and SDLP MLA Conall McDevitt.
"The institutions needs to be held accountable," said John Leatham, a survivor who will be attending the meeting.
"In this day and age we are all answerable to somebody and the institutions were there to protect the child, and unfortunately the child was not a child any more, the child was an object."
Ms McGuckin said she believed the executive would hold an inquiry and that the "eyes of the world were watching".
"There are matters here very sensitive to us all and we want to be treated with the respect we deserve," she added.
"We do want an open-ended inquiry, we want them to go deep to the roots of how these abuses were allowed to happen.
"The victims need a voice here and this is the time for them.
"It has been too late now for many victims who could not speak out, we want to be given the chance to be able to speak out and we want this inquiry done properly.
"We would appeal to the new executive to deliver on their commitments and to honour what they did say they would do for us."