Number of paid parking spaces triples at Altnagelvin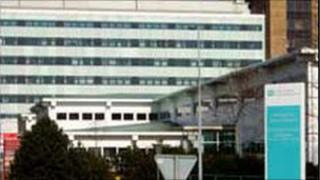 Altnagelvin Hospital in Londonderry is tripling the number of paid-for car parking spaces.
The hourly rate for 405 spaces will now increase to 70 pence an hour.
The Western Trust said people who are currently entitled to free car parking will continue to receive it.
Trust Director, Sara Groogan, said the measure was necessary to cover the costs of improvements to car parking facilities.
"The volume of traffic and the demand for car parking at the Altnagelvin site continues to grow year on year," she said.
"In order for the trust to be able to provide well maintained and accessible car parking, that costs money and unfortunately we are putting in place these charges to enable us to recover these costs."
Mrs Groogan said the hospital was trying to encourage more people to use public transport to travel to the hospital.
"We're working closely with Translink and the Department of Regional Development in order to try to put in place strategies that will actually reduce the number of cars coming on to the site," she said.
Around 1200 spaces will remain free of charge.