First Derry Presbyterian Church reopens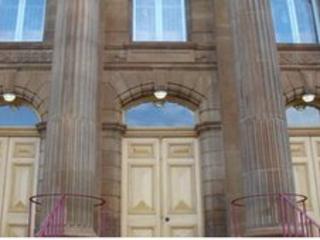 More than 1000 people have attended the reopening of the First Derry Presbyterian Church.
Deputy First Minister Martin McGuinness and Chief Constable Matt Baggott where among those in attendance at the special service on Saturday.
£2.5m was spent refurbishing the historic building which was closed in 2002 due to dry rot.
Mr McGuinness said the ceremony was "hugely symbolic".
"This has massive symbolism for the Presbyterian congregation but I would contend also for the people of the Bogside and Brandywell, who are neighbours of this church."
The Chief Constable said he felt it was "important" that he attended the reopening.
Before the service he visited four police officers, who were involved in a bomb attack in Londonderry last Monday.
"I went to spend time with these officers and all they could talk about was their dedication to the people of the city and they just had a hand grenade thrown at them," said Mr Baggott.
On Thursday several paint bombs were thrown at the building.
Reverend David Latimer said the incident, "was minor" and involved a small number of young people.