The diva, the diplomat and the Queen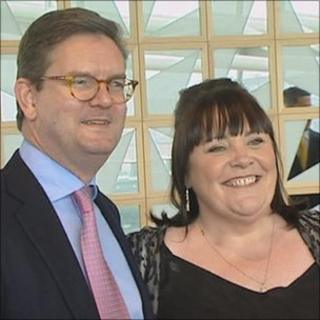 Irish music star Mary Byrne has been singing the praises of the Queen ahead of her historic four-day visit to Ireland.
The X Factor finalist has admitted that she is a big fan of the British royal family, even though, like most Irish people, she's more of a republican than a royalist.
As she prepared to sing for the Queen at a gala concert on 19 May, Mary Byrne said: "I just think she's a lovely woman. She's 80-odd and she is still going strong, and she always looks well. I think she is a lovely lady.
"I wouldn't be a royalist, as such. But I watched the wedding last month, and the wedding was brilliant and I love William.
"Diana stole my heart and I think she stole everyone's heart. Her sons now are stealing our hearts."
Like many Irish people, Dublin diva Mary Byrne has a fascination with the British royal family. Just like any neighbouring countries, there is deep interest in what is going on next door.
Long memories
The trials and tribulations of the royal family in the past two decades have made headlines in newspapers all over the world, and Dublin is no exception. Not everyone shares Mary's affection for the British monarchy, given the bitter history between Britain and Ireland over the centuries, particularly the war of independence. Irish people have long memories.
Mary Byrne was a supermarket check-out assistant in Dublin before shooting to musical fame on last year's X factor.
She said: "I wouldn't be into politics, but I do feel we were hurt as a nation, but it is a long, long time ago.
"I just wish that that we could all put it behind us and get on better, because the world is a lot better when we're all talking, all laughing and we're singing together, rather than hating each other.
"I think the majority of people in Ireland think that.
"I go back and forward to England a lot and I meet lots of English people and they're the same as us - just ordinary down-to-earth people, just trying to get on with life and live in peace."
She said she hoped there would be no trouble during the four-day visit by dissident republicans.
"No-one wants to see anything happen. For me, I'm 51, and I never dreamed I would see the Queen coming to Ireland," she said.
"I'm very honoured and I'm very nervous at the same time. It's a great honour for me, as an ordinary check-out girl, for the British ambassador to ask me to sing for the Queen of England."
'Profoundly significant'
The British Ambassador in Dublin is Julian King, and he has organised the concert at which Mary Byrne and boy band Westlife will perform.
Speaking at the Embassy in Dublin, he said: "In almost 60 years, the Queen has paid over 300 official visits overseas. This is her 326th - to our nearest neighbour, Ireland. I think it's going to be profoundly significant.
"It will be a turning of the page in our relationship. It will speak to our shared past, our shared experience but it will also be setting the framework for the next century."
The ambassador is a symbol of the new relationship between Britain and Ireland. His diplomatic background is in European economics rather than Northern Ireland politics.
Ireland is the UK's fifth largest export market, and the economic ties between London and Dublin are crucial, as demonstrated by Britain's recent decision to give Ireland a direct loan as part of the country's international bail-out
Like Mary Byrne, the royal visit brings both pleasure and pressure to the British ambassador.
He said: "It does make me a little bit nervous and I'll be enjoying every minute of it. But I'll also be enjoying waving goodbye at the end of a very successful visit, which I'm confident it is going to be."
All the plans for the visit are now in place. Only one thing remains secret - the song that Mary Byrne is going to sing for the Queen... .