Wife 'unaware' of James Clow apartment purchase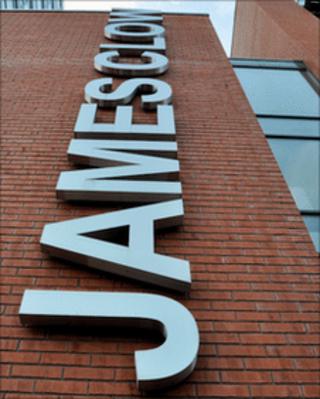 A woman being sued with her husband over failing to complete a deal to buy a Belfast apartment knew nothing of the purchase, the High Court has heard.
Property company Sarcon No 177 Ltd is suing a number of defendants over contracts for properties in the James Clow building.
It was disclosed on Friday that another defendant in the proceedings has moved to Australia.
Sarcon No 177 is controlled by Cookstown developer Desmond Nugent.
Just about
During a review and summons hearing on Friday, a judge was told one defendant's wife only found out recently about the case against them.
A barrister representing the woman confirmed that she claimed to have known nothing about her husband's purchase of the apartment.
When the judge asked if she was still with her husband, the barrister replied: "Just about".
The court also heard that the defendant who had moved to Australia has not appointed any solicitors to deal with the case.
A barrister for Sarcon said discussions with the defendant were continuing.
Both cases were adjourned until next month.
Slippage
Last year, other property buyers failed in their first legal attempts to get out of deals for the James Clow apartments.
A married couple and a private company, Clear Homes, each sought early High Court rulings over delays to the planned completion date.
They had paid deposits for apartments in the complex costing £245,000 and £216,000 respectively.
Legal proceedings were launched after they were told of an anticipated six months slippage to the completion date originally scheduled for May 31 2009.
Sarcon claimed its contractor encountered a number of difficulties, including the foundations for two adjoining former licensed premises and adverse weather conditions.
Another man who was sued for his failure to complete on the purchase of an apartment in the same building was failed house building magnate Michael Taggart.