Tom Elliott says he has received a lot of UUP support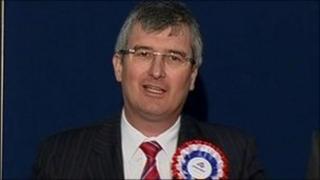 The leader of the Ulster Unionist Party, Tom Elliott has said he has received a lot of support from party colleagues following their performance in the assembly and council elections.
Mr Elliott said he also got their support after his apology for comments about Sinn Fein, when he described their supporters as 'scum'.
He was speaking after a meeting of the UUP executive on Saturday.
"There was overwhelming support for me and the party," Mr Elliott said.
"I have to say it is more important that we have support for the party, that we have goodwill within the party and that we actually realise where we went wrong, where the downfalls were, where the negativities were, and change those into positive aspects."
Mr Elliott insisted that the executive meeting was routine and was solely concerned with airing constituency issues raised by the election results.
He added that problems highlighted by David McClarty's de-selection and subsequent re-election as an independent MLA, losing the UUP an executive seat would be dealt with by internal re-organisation.
"I see changes coming in Ulster Unionist Party structures...I will be carrying that through over the next number of months" he added.
Despite rumours that elements in the party have cited his leadership style as the reason for a significant drop in votes in some urban areas, the party executive held rank behind their leader.
Only around 120 UUP members are entitled to attend executive meetings, and a general meeting will be held on 4 June.
Attendees were keen to stress that matters discussed at the meeting were "private", and were urged not to speak to the press about the issues raised.
Mr Ellliott succeeded Sir Reg Empey as leader of the Ulster Unionist Party in September of last year, defeating Basil McCrea in a leadership contest.