New Executive ministers to be appointed on Monday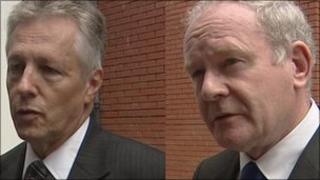 The political parties are due to reveal which ministers will lead their chosen departments on Monday.
The DUP will appoint four new ministers in finance, health, enterprise and social development.
Sinn Fein ministers will head education, agriculture and culture.
The Ulster Unionists will announce their choice for regional development, while an SDLP minister will take environment. Employment and learning is to be headed by an Alliance minister.
After these posts are handed out assembly members will hold a cross-community vote for justice minister with the Alliance leader David Ford expected to be reappointed.
BBC political editor Mark Devenport said the big surprise so far was that Sinn Fein, which had been expected to take an economic portfolio, once again chose education.
"Today we will find out whether Caitriona Ruane returns to the department or whether the widespread speculation that John O'Dowd is being lined up for the job proves correct," he said.
At the end of the proceedings, the DUP and Sinn Fein will jointly propose the creation of a new post of principal deputy speaker. It is expected that Francie Molloy of Sinn Fein will be appointed at a later date.