'Go to graveyards not Queen' campaigner tells loyalists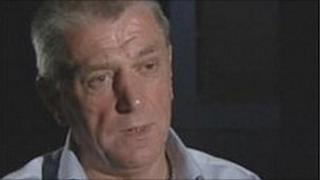 As loyalist paramilitary leaders prepare to attend a ceremony for the Queen's visit to Ireland, a victims campaigner has said they should be visiting graveyards instead.
UDA leader Jackie McDonald is among several prominent loyalists who have been invited to Islandbridge.
There, the Queen will remember Irish soldiers who died in two World Wars.
But Jude Whyte, whose mother died in a loyalist bomb, said it was important to acknowledge the damage done in NI.
Peggy Whyte was 52 years old when she was killed in a bomb, thought to have been left by the UVF, at the front of her home in University Street, Belfast in April, 1984.
Her son said: "It would be far more important in terms of peace and reconciliation that they perhaps visited the graveyards and looked at the damage their organisation did," he said.
"Their casualties and victims were unarmed civilians who were no harm to anybody.
"Try to understand the damage that the civilian population suffered here.
"You broke a lot of hearts and you maimed and murdered a lot of people. It is time to say sorry to them."
However, Reverend Mervyn Gibson who sits on the Loyalist Commission, defended those loyalists who had made "a significant contribution towards peace".
"There are victims on all sides and apologies wanted on both sides," he said.
Speaking on BBC NI's Good Morning Ulster, Jackie McDonald said the people who had worked tirelessly for peace were "ex combatants and ex prisoners".
They are "an essential part of the peace process", he said.
"It is very symbolic, at long last the Queen is going to visit the south.
"It is fantastic for the majority down there to welcome her the way they seem to be doing. It is just a pity that some dissident republicans are determined to create havoc on the day."
Mr McDonald also paid tribute to Irish President Mary McAleese and her husband, Martin.
"The visit of the Queen and the Pope is a reciprocation," he said.
"Both communities on both sides of the border can accept that the head of state and one of the main figures in the Catholic church could come to this island, if you like, and be accepted by both communities and both traditions."
Mr McDonald said it sent a message that people were genuinely prepared to move on.