Traders welcome plans to scrap proposed parking charges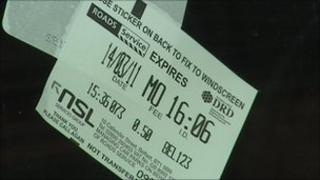 Businesses in Londonderry have welcomed plans by the UUP to scrap proposed parking charges.
The proposals were put forward by the former minister for regional development Conor Murphy in March.
However, Ulster Unionist Danny Kennedy said he "could see no reason" why his party's new DRD minister would press ahead with the plan.
The City Centre Traders and Business Forum said Mr Kennedy's comments were good news for Derry.
Martin McCrossan said the forum had campaigned for the proposals to be shelved.
"We are over the moon," he said.
"This was a unified argument that people put forward that these charges would be detrimental to their businesses.
"We understand there are difficulties in Stormont at the moment and that there are funding and money issues.
"We felt certainly this wasn't the right way to go forward."
The department was planning to raise millions of pounds in revenue by increasing car parking charges in thirty towns and cities across Northern Ireland.
On Sunday Mr Kennedy said he recognised that many people were opposed to the idea.
"I can see no reason why we wouldn't change it as it is something we outlined in our manifesto," he said.