Lawyer Joe Rice tribunal finding quashed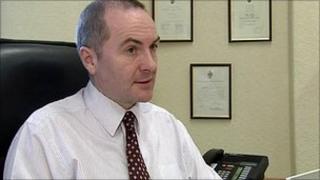 A new hearing has been ordered into claims that a leading solicitor victimised a partner at his law firm.
The Court of Appeal quashed an original finding against Joe Rice, who had been directed to pay over £11,000 to Yvonne McEvoy.
Judges ruled that the case should be remitted for reconsideration by a newly constituted industrial tribunal panel.
Lord Justice Girvan said the original tribunal's reasoning was "not sufficiently clear".
Mr Rice challenged the original decision that he victimised Ms McEvoy by paying her only the minimum statutory sick pay during a period of illness in 2009.
A dispute between the pair was said to have been linked to Ms McEvoy, a specialist in conveyancing, being asked to do more criminal law work.
The tribunal heard evidence that she brought significant income to the firm during the years when the property market was doing well.
But she was said to have been asked about taking on more criminal work as the housing downturn began.
Ms McEvoy, in her mid-50s was reported to be reluctant to join the rota of lawyers attending police stations to represent clients in custody because of her age.
She became ill with what was described to the original tribunal as a "psychological illness".
The panel agreed that she should have received full pay for the first three months of her sickness.
An award of just over £11,000 was made, which included that salary plus an amount for injury to feelings.
That finding was contested by Mr Rice, who runs one of Northern Ireland's most successful criminal practices.
Lord Justice Girvan, sitting in the Court of Appeal on Monday, ordered the case to be heard again on the basis that the original tribunal's reasoning was not sufficiently clear.
Following the verdict Mr Rice expressed his satisfaction with the outcome.
He said outside court: "I am very pleased and relieved that there will be a new rehearing on this narrow ground."